The "cold stream" brought about by the global financial crisis has obviously affected China's manufacturing industry, but the author recently found an interview with Guangxi Yuchai Group, the largest internal combustion engine production base in China, that although production has been adjusted according to changes in orders, it is Yuchai Engineering and Technology Research Institute is a busy scene. Researchers are often required to work overtime in addition to working overtime.
In Guangxi Yuchai Machinery Co., Ltd., the most urgent and most pressing issue for Yuchai people is the "product crisis." In fact, Yuchai has grown from an unnamed small factory of the year to become China's largest internal combustion engine production base. There are currently only 13 series and more than 1,300 varieties of diesel engines. Over the years, technological innovation has continued and product quality has been steadily upgraded.
Then, what exactly is the "product crisis" in Yuchai? The company's responsible person explained that currently some of the engine-related manufacturing companies have stopped production and production cuts due to the financial crisis, the road transportation industry has also shrunk dramatically, and foreign orders have decreased substantially. Yuchai Group Instead, it analyzes and taps potential market demands in the future, actively adjusts the product structure, and conducts technical research in conjunction with the market.
"In the fourth quarter of last year, the central government introduced a series of policies to stimulate domestic demand and stimulate growth. Large-scale investment construction will inevitably drive demand for construction machinery, and rural consumption will also start." said Wu Qiwei, deputy general manager of Guangxi Yuchai Machinery Co., Ltd. "Therefore, our engine products will undergo a major transformation. For example, from the original luxury and comfort type to the economic model, we have related products in the construction machinery market and rural market. I think this year this piece will probably rise and fall."
It is necessary to actively adapt to the market rather than wait for the favor of the market. The concept of Yuchai Group in establishing a product crisis has made a good reserve of technology research and development in advance, and it is facing the market to compete first. Yu Ping, chairman of Yuchai Group's Board of Directors, said that currently the company's production and sales volume has been affected by the global economic crisis. However, it is necessary to make full use of this period of hard work to research and solve long-standing issues that have not been resolved.
At the end of November last year, Yuchai Machinery Co., Ltd. broke through the "Product Crisis" research event and held a report meeting. The 16 key research projects that were listed as breakthroughs in the "Product Crisis" were completed in accordance with the progress, and 60% of the projects had made significant progress. Some projects Gradually achieved gratifying results, has been confirmed by repeated verification of the Institute of Engineering. In addition, 34 projects listed as key quality supervision projects have also made significant progress.
ZNC EDM Sinker Machine/ZNC EDM Machine
Z axis adopt high precision SANYO DC servo motor
X/Y/Z axis adopt Taiwan ball screw
X,Y axis adopt high precision bearing
Oil pump imported from Italy with big power
It suits to process cavity, hole and special shape by copper, graphite, steel, tungsten steel, hard alloy steel material
We manufacturer economic ZNC sinker EDM machine.
Graphite electrode,Tungsten electrode,Copper electrode
Max spped reach 600mm2/min
Max roughness reach 0.2um
Japan servo motor
Fast surface smooth function
Economic cost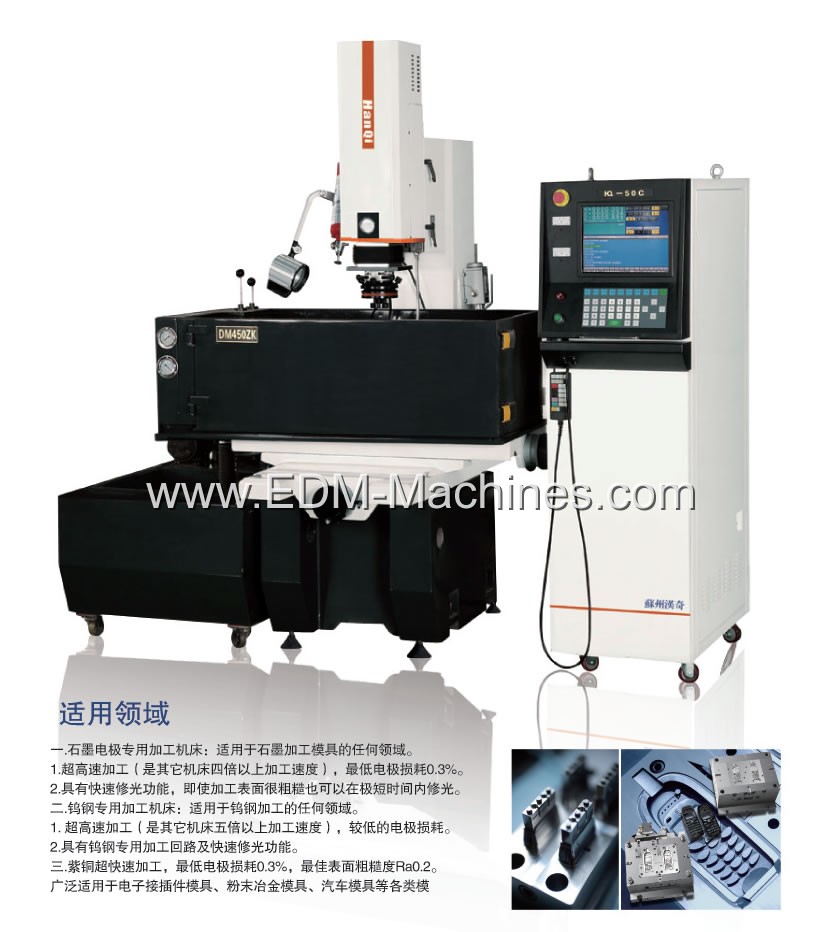 ZNC EDM Sinker Machine,Electrical Erosion Marking Machine,Die EDM Sinker,Spark Erosion Machines,ZNC EDM Machine,Sinker EDM
Suzhou HanQi CNC Equipment Co.,Ltd , http://www.edm-machines.com